Control flooding with the Aquabag Instant Sandbag


Aquabag The Instant Sandbag
Aquabag is a replacement for the ordinary sandbag in the control of flood waters. Aquabag is a polypropylene bag filled with a small amount of super-absorbent polymer. When it becomes wet, it expands to more than 40 times its original size in just 2-3 minutes! This provides a fast and easy means of constructing a flood prevention dam with less labor or heavy equipment required. And it's clean and neat, too! No messing around with sand or dirt. You can keep these in the box right in the garage or shed.
Once the flood event is over, the environmentally friendly Aquabag can be dried out and disposed of easily and in an environmentally friendly way. When compared with a traditional sandbag, the Aquabag greatly reduces time, storage issues, and money.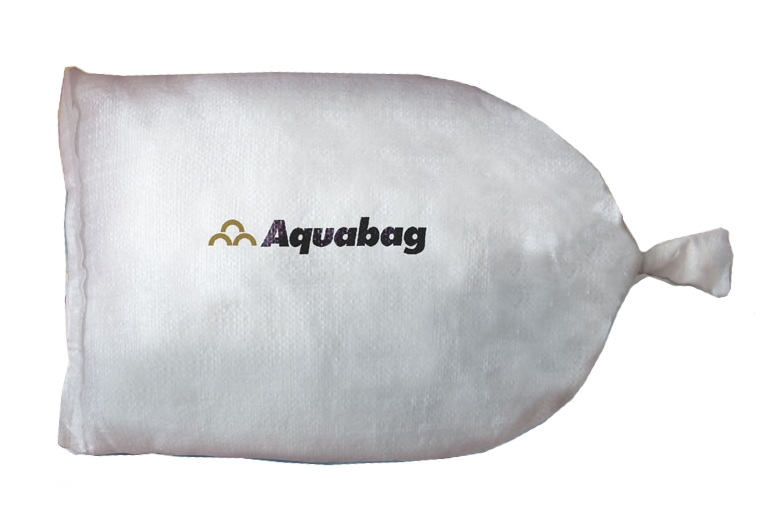 Aquabag The Instant Sandbag
Save Money, Time, and Labor in the war against flooding with bags filled with a safe biodegradable polymer and water
Build dikes in half the time with fewer people
Deploys quickly and easily.
Easy to use. Automatically inflates in about 3 minutes. Expands from less than 1 lb. to 34 lbs. before your eyes.
Requires less LABOR to prepare or use.
Can be 'inflated' at point of use, no need for heavy infrastructure preparation (i.e. Remote filling with sand, transportation to site etc.).
Very efficient. Requires no more storage space than a normal, empty sand bag!
Easy to ship or move.
Environmentally Friendly!
Uses polypropylene bag and water absorbing resin (PRTR Approved, the same as baby diapers).
Polymer safely dissolves naturally in the ground
Compare Aquabag to Traditional Sandbag
| Traditional Sandbag | Aquabag Inflatable Sandbag |
| --- | --- |
| Require extensive time, labor, and material transportation to prepare "mission ready" sandbags. | Fast, easy, lightweight bags "inflate" in minutes using fresh water at the dam site. Automatically! No muss, no Fuss. "Just add water! |
| Require access to sand or dirt for fill, extensive equipment and manpower to fill, move, and manage. | Stores in about the same space as empty sandbags, but ready to deploy right to the site. |
| Difficult to move and transfer once filled. | Easy to ship, move, and deploy. |
| Must dispose of contaminated sand/dirt fill material. | Biodegradable, environmentally friendly. |
Ordinary sandbags require much equipment and manpower to deploy. Delivery of bags and sand to a work site and then filling, tying, and loading bags onto trucks to transport to the flood area takes a large operation and many workers.
Aquabag reduces that by more than half, allowing you to simply deliver the "empty" bags directly to the flood site and begin soaking bags and building immediately!
Calculate Number of Bags Needed
Approximate Materials require for 100 lineal feet of Aquabag wall to the height specified in the chart below.
| | |
| --- | --- |
| 1 ft | 600-800 |
| 2 ft | 1,400 - 2,000 |
| 3 ft | 2,200 - 3,400 |
| 4 ft | 5,300 |
| 5 ft | 7,600 |
| 6 ft | 10,000 |
Watch Demonstration Video Below
Residential protection
Doorways
Windows
Garage doors
Driveways
Sump pump areas
Streets
Factory protection
Store front protection
Sidewalk protection
Creek overflow
Underground parking protection
Railroads
River banks
Golf courses
Construction areas
Hazardous Spill Containment
Soil Erosion and Fire Control
Roadway construction and Barricades
Emergency Flood and Water Control
Inflated dimensions: 13″ wide x 22″ long x 7″ high
Dry weight: ½ Lb.; Inflated weight: 32-36 Lbs.
Outer bag material: polypropylene
Biodegradable, super-absorbent Polymer; MSDS available
Shelf life when properly handled: Approx. 5 years
Remains inflated up to 8 weeks, if needed.
Standard Box quantity: 30 Bags, Part # AQ30-P, Wt. 23 Lbs.
Large Box Quantity: 70 Bags, Part #AQ70-P, Wt. 50 Lbs.
Flood Data and Aquabag Information
Aquabag is a replacement for the standard sandbag in the control of floodwater. The Aquabag offers a new solution using bags filled with a polyacrylate polymer. Water can normally be found and used at the site.
Bags are easy to Use! Just soak in water for a few minutes and watch as they inflate themselves.
The Aquabag is constructed of polypropylene and when filled and properly installed, can withstand the forces of floodwater. A small amount of polymer is included in each bag. When the bag is soaked with water, the polymer is activated into a heavy gel. This gel stabilizes the water inside the Aquabag and gives it strength to form a barrier as the bags are stacked at the dike site.
When floodwater recedes, the gel is removed and can be dumped directly back into the river where it has no effect on aquatic life; or it can be disposed of at local landfills or agricultural fields. The gel is biodegradable in a matter of days. When dispersed in agricultural fields, it can be tilled into the ground where it retains moisture and enhances crop growth. The empty bag is then disposed of in a landfill, where it also breaks down over time.
Aquabag is equivalent to a sandbag in volume and weight and can be used to build dikes more effectively than sandbags. Tests show that fewer people can build better dikes in a fraction of the time compared to traditional sandbagging techniques and for considerably less total cost.
You don't have to live near water to become a flood victim. In fact, everyone lives in a flood zone. It's just a matter of how likely it is that a flood will hit your home. And unfortunately, floods are the most common natural disaster.
Flood zones are rated based on the "100-year flood," the "200-year flood," or the "500-year flood." These are standards used for floodplain management by most federal and state agencies, the National Flood Insurance Program (NFIP), and they are also used by lenders and insurance companies to determine the need for flood insurance.
The "100-year flood" zone means that the area's elevation has a 1% chance of being equaled or exceeded by flooding each year, or a 26% chance of suffering flood damage during the term of a 30-year mortgage.
The "500-year flood" zone means that the area has a lower risk of flooding. However, 25% of all flood insurance claims are from these areas.
Aquabag Poly bag Models:
AQ30 $189.00 Includes 30 Aquabag inflatable sandbags, enough to build a dam 12″ high x 12′ long.
AQ70 $425.00 Includes 70 Aquabag inflatable sandbags. This is less per bag than the 30 bag pack and enough to build a dam 12″ high x 30′ long. 
FREE Basement Evaluation Checklist
Click the "Free Checklist" button to receive a free Basement Evaluation Checklist to use as a guide to protecting your basement from flood damage. This is a worksheet designed for you, the homeowner, to put the important information regarding your basement onto one sheet and to use it as a guide for risk management.