"Excess Water Flow Shutoff System"
WaterBlock Automatic Water Shutoff System
WaterBlock is an excess flow, safety shut-off valve which controls the maximum continuous flow of water through it. Its function is to measure the number of gallons of water that passes through it and shut off if this quantity exceeds the preset value until you reset it. If the water flow volume during a continuous run does not exceed the set value before it stops normally, WaterBlock automatically resets to zero and starts a new measurement cycle when the flow begins again.
For example: WaterBlock is installed into the water line feeding an auto-fill coffee maker or ice machine and it is set for 1 gallon because this appliance normally uses less than a gallon per cycle. If the appliance operates normally, it fills the reservoir and shuts off and WaterBlock resets to zero till the next operating cycle. However, if the appliance malfunctions or the water line ruptures, and the water continues running, WaterBlock will shut off when the usage reaches 1 gallon and will stay off till someone resets the valve. This prevents the damage that could have happened if the water had been allowed to keep running.
WaterBlock WB-13R Features and Benefits
WaterBlock WB-13R is ideal for Low-Volume point of use applications such as washing machines, dish washers, drinking fountains, ice makers, water filters, or any water line application that would not exceed 13 gallons per cycle during normal operation. WaterBlock WB-13R is NOT suitable for whole house applications because its maximum flow setting is 13 Gallons per cycle.
Automatic operation for a "set it and forget it" installation.
Requires NO electrical power. Water flowing through it is all that's needed.
Suitable for both hot (158° F) and cold water. 
Allows flow in increments of 1 to 13 gallons, which is set at time of installation.
Automatically resets after every normal run cycle unless the preset limit has been reached.
WaterBlock must be mounted

 

vertically

 

with flow direction either up or down.
Water Flow Rate: Minimum 1 GPM, Maximum 7.9 GPM.
WaterBlock Valve and Reset Module Connections: 3/4″ Garden Hose.
Adapters from Garden Hose to standard 1/2″ pipe threads are included.
WaterBlock WB-13R Length: 3-1/2" without reset, 6" with reset. Wt. 12 oz, without the brass parts.
Expected Life: Approximately 80,000 gallons total volume before replacing.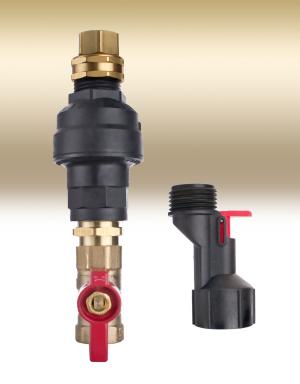 Includes the following:
(1) Brass 1/2″ Ball Valve with relief vent and brass adapter to connect to inlet of WaterBlock.
(1) WaterBlock excess flow valve.
(1) WaterBlock Reset Module, for resetting WaterBlock after a shutoff event.
(1) Brass adapter to connect outlet of WaterBlock Reset Module to your 1/2″ piping.
(1) Flow adjustment key, (not shown here) used to set gallon flow limit during installation.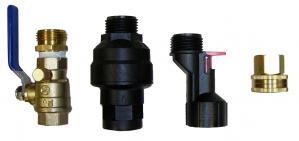 Here is a short demonstration of how the WB-13R is assembled and how it works.
WaterBlock 13 Gallon Max Automatic Excess Water Flow Shutoff System with Relief Valve and Reset Module:
FREE Basement Evaluation Checklist
Click the "Free Checklist" button to receive a free Basement Evaluation Checklist to use as a guide to protecting your basement from flood damage. This is a worksheet designed for you, the homeowner, to put the important information regarding your basement onto one sheet and to use it as a guide for risk management.